The new hub will help improve the understanding and governance of co-evolving hazard developments and coastal processes.
Advancing its mission and leadership role to improve climate risk management critical to societal well-being, Rutgers, The State University of New Jersey will lead a multi-university Megalopolitan Coastal Transformation Hub (MACH) made possible by a grant through the National Science Foundation's Coastlines and People (CoPe) Program with expected total funding of $19.9+ million over the next five years.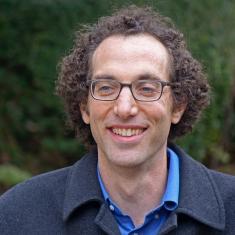 The MACH team, led by Rutgers climate scientist and Principal Investigator Robert Kopp, includes climate and sea level scientists, civil engineers, urban planners, economists, emergency management specialists, environmental anthropologists and decision analysis experts, social scientists, and humanists, among others. Co-Principal Investigators Victoria Ramenzoni from Rutgers, Klaus Keller from Penn State University, Carolyn Kousky from University of Pennsylvania, and Ning Lin from Princeton University are among the senior personnel. Co-investigators from Columbia University, University at Albany, Tulane University, Clark University, Montclair State University, the University of Central Florida, and Carleton College will also join the team.
"As extreme weather events continue to highlight our region's and world's vulnerability to the effects of climate change, Rutgers has taken a leadership role in addressing the climate crisis through research, scholarly activities, and meaningful action locally and globally," said Rutgers President Jonathan Holloway. "In addition to developing a plan for our own university to reduce our carbon footprint, our experts are leading collaborations such as this one to create mutual understanding within our diverse communities, gather insights to guide decisions, and develop adaptation plans that could benefit coastal megalopolises in our region and beyond. It is a proud moment for Rutgers and for our partners to collectively impact change for future generations."
"Dr. Keller's research and the CoPe Megapolitan Coastal Transformation Hub demonstrate Penn State's commitment to finding equitable solutions to climate change that serve all communities, especially the historically underserved communities most susceptible to the effects of climate change," said Penn State President Eric Barron. "I'm proud to see Penn State's researchers and scientists at the forefront of this critically important field. Congratulations to the team as they begin their collaboration."
The project will be initially funded by the NSF with $7.9 million for the first two years, with the remaining funds to be awarded following annual progress reports on the research and results.
The NSF funded four additional hubs in the nation with over $20 million in grants to conduct critically important coastlines and people research that is integrated with broadening participation goals and that aims to transform understanding of interactions among natural, human-built, and social systems in coastal, populated environments.
"These projects are unique, community-built and embody the CoPe goals of broadening participation in science and fostering societally relevant coastal research," says NSF CoPe program director Amanda Adams. "The awards address coastal hazards from the Pacific Northwest to the Gulf of Mexico to the mid-Atlantic and engage communities from the densely populated Eastern Seaboard to tribal and rural coastal communities."
The MACH project will conduct research that supports the development of climate-resilient decision-making frameworks to equitably support coastal communities. In addition to facilitating interdisciplinary science, MACH will link researchers with coastal stakeholders and decision-makers to facilitate the co-development of dynamic adaptation policy pathways for equitably navigating a deeply uncertain future.
"We are dealing with complex and rapidly changing coastal environments and hazards. Rutgers and most of the team working on this project sit within the dense urban mega-region that stretches from New York City, through New Jersey, to Philadelphia. We have to understand the dynamics of how humans and the coastline interact in such complex, urbanized regions so that we can thrive despite rising sea levels and intensifying heat and rainfall, and take advantage of new opportunities like offshore wind," said Kopp, who is also director of the Rutgers Institute of Earth, Ocean & Atmospheric Sciences and professor in the Department of Earth & Planetary Sciences. "The lessons we learn here should have application to urban megalopolises around the world."
According to Kopp, MACH will partner with communities in the region, using real-world decision problems to shape its research activities. The project will investigate the hazards the region faces, as well as the way people understand and respond to these hazards. It will also investigate the behavior of the housing markets, mortgages, and insurance companies, and the effects on municipal budgets.
"We need to think about how we are going to flexibly manage the transformation of the coast, building relationships that link scientists and communities to manage risks dynamically, collaboratively and in constant dialog," added Kopp.
The MACH team will address three main research questions:
How can an improved scientific understanding of the integrated natural-human-decision system inform coastal climate risk management and the design of mission-oriented basic research?
How do the dynamics of coastal natural-human systems drive hazards and risks?
How do dynamic interactions among decisions affecting the coastal system at different scales and time horizons influence exposures, vulnerabilities, and risks?
Rutgers MACH research will engage students from Rutgers and community colleges, junior faculty, and faculty through research symposia while training and providing the necessary concepts, tools and skills to a new generation of leaders to advance managing climate risks. Rutgers Mason Gross School of the Arts will also develop a documentary of the whole five-year process.
Co-Principal Investigators and other experts from Rutgers University-New Brunswick include:
– Victoria Ramenzoni – School of Environmental and Biological Sciences (Co-PI)
– Clinton Andrews – Edward J. Bloustein School of Planning and Public Policy
– Lisa Auermuller – New Jersey Agricultural Experiment Station
– Anthony Broccoli – School of Environmental and Biological Sciences
– Carrie Ferraro – Institute of Earth, Ocean, and Atmospheric Sciences
– Gregory Garner – School of Arts and Sciences
– Jie Gong – School of Engineering
– Jeanne Herb – Edward J. Bloustein School of Planning and Public Policy
– Shantenu Jha – School of Engineering
– Marjorie Kaplan – Rutgers Climate Institute
– Tom Lennon – Mason Gross School of the Arts
"This important project builds on and expands Rutgers University-New Brunswick's leadership in climate science and our commitment to address one of the most pressing crises facing the human race," said Rutgers University-New Brunswick Chancellor-Provost Francine Conway. "This effort requires the full focus of our prowess in academic excellence, world-changing research, and impactful public service."
"The recent impacts of Hurricane Ida served as a stark reminder that all of us are vulnerable to the increasing frequency and severity of extreme weather events. Partnerships such as the Megalopolitan Coastal Transformation Hub will play an important role in protecting the safety and resiliency for some of our most weather vulnerable communities," said Robert Griffin, dean of the College of Emergency Preparedness, Homeland Security and Cybersecurity at the University at Albany. "Dr. DeeDee Bennett is a leading emergency management expert who focuses on vulnerable populations during natural disasters. We're proud of her contributions to MACH and the impacts this research will have on hazard planning for coastal megalopolises around the globe."
This article was originally published in Rutgers Research by Marisol Seda on September 9, 2021.